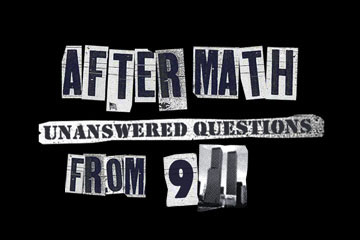 "In AfterMath, we have sought to capture the spirit and essence of the June, 2002 Unanswered Questions press conference at the National Press Club in Washinton, D.C, in which an articulate array of individuals iterated questions that continue to overshadow the official 'version' of the story. With AfterMath, we have asked nine (9) people, eleven (11) of the most pressing questions that emanate from the terrible and, as yet, unexplained, events of that day.

Narrated by Hip Hop legend Paris and featuring interviews shot by GNN syndicate producers in six cities, AfterMath will roll out as a serial of episodes over the following weeks. If you would like to keep informed about new uploads, just join the GNN NewsWire (located on the left panel of the GNN site) and we'll shoot you the info.

PART I

In this first installment, we confront the murky issue of government and airline industry foreknowledge about the September 11 attacks. Featuring George Soros, Mary Schiavo and Michael Ruppert.

PART II

Questions 3 and 4 of our series focus on the breakdown of U.S. military and intelligence agencies on September 11. Nafeez Ahmed, wunderkind author of The War on Freedom and former CIA analyst David McMichael shed light on the remarkable failure of Standard Operating Procedure... and the Bush Administration's reaction to it.

PART III

Scratching deeper beneath the surface of what is commonly known about the lead-up to 9/11, Professor Michel Chossudovsky (author of War And Globalisation) illuminates the murky relationship between Pakistan's terrorist-linked ISI and successive U.S. Administrations. Mike Ruppert then returns for a short primer on Zbigniew Brzezinski's prescient treatise, The Grand Chessboard, a strategic analysis of Eurasia and its importance to America's drive for global hegemony.