COME, LEARN, SHARE, RECLAIM YOUR COMMUNITY, CELEBRATE LIFE
FOURTH ANNUAL SOLIDARITY DAY
Saturday, October 27, 2001, 10 AM to Midnight
St. Philips Church, 365 Turner Road, Auburn (Rt. 4)


Join Carolyn Chute, Tammy Greaton, John McClendon,
Lucy Poulin, Charles Scontras, Jose Soto
and many, many more...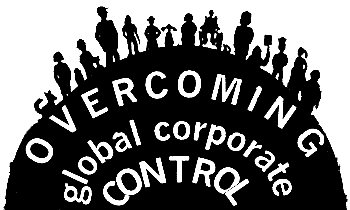 CELEBRATE OUR COLLECTIVE WORK
CONNECT GLOBAL AND LOCAL ISSUES
LEARN FROM EACH OTHER
ORGANIZE TO END CORPORATE CONTROL OF OUR LIVES
CREATE A JUST, SUSTAINABLE, DEMOCRATIC FUTURE

A BRINGABLE FEAST

Bring your dancing shoes

Bring a blank t-shirt.

Bring your passion for justice.

If it's convenient, bring a cold potluck to share.

If you are part of a group, bring information to display

FREE-FREE-FREE-FREE-FREE-FREE-FREE-FREE
EVENT FLOW
10-12 AM Small Groups and Hang Out Time

12:00 Lunch

1-5:15 Speeches & Skits & Poetry & Songs & . . .

5:15 Small Groups - Building On The Day - Music

6:30 Dinner & Good Talk & Music & . . .

8:00 Dance: LATIN MUSIC & MAINE FUNK ROCK
TENTATIVE SCHEDULE
Lewiston Labor Songs - Ethan Miller
Maine Labor History: A Forgotten Heritage - Charles Scontras

Lewiston-Auburn Strike of '37: Decades of Repercussions - Seth Wigderson
We Shall Overcome (High funk version)
Labor Party: Maine Actions - Duncan Wright
BREAK
Redemption Song - Nimal Scott-Eames
Universal Health Care: A New Beginning - Tammy Greaton, Maine People's Alliance
Reclaiming our Flag, Land and Future - Carolyn Chute
Rural Maine Communities: Extractive Economics - Lucy Poulin
Maine Association of Interdependent Neighborhoods
Latin/Jazz music - Eliot King Smith, John McClendon
Exploitation across the Americas - Jose Soto, Maine Rural Workers Coalition
Interdependence, Political Prisoners & the Urban/Rural Connection - Victory Gardens
"Procession of the Hemp Seed Sower" : Hemp legalization activities - Cindi Ellen O'Connor, The Hemp Center
BREAK
"I've been robbed" skit - I.W.W.
Transnational Capitalism - John McClendon
"Scandalize my name" - John McClendon
Let Cuba Live
Introducing the Maine Global Action Network - Matt Schlobohm & Ethan Miller
Radical Ballad - Eliot King Smith
Rock/Gospel/Hip-Hop - Eliot King Smith & John McClendon
DANCING!!!

Latin
Blues
Mutron 6 - Homegrown Maine Funk
Free Child Care Available
12:00 - 6:00 PM
---
---
---
PRINCIPLE ORGANIZERS
Lewiston Downtown Neighborhood Association,
INVERT\ROSC, Tom Whitney, Maine Global Action Network...
For more information, contact:
Claire Gelinas at (207) 674-2358;
Email: rutabaga@megalink.net
Lewiston\Auburn residents are urged to help Portland citizens and organizers get out the vote for this important referendum.

The HMO\insurance industry lobby opposing Maine's Universal Health Care plan has hired a gold-plated PR agency (minimum campaign contract fee: $500,000) to create a massive disinfo campaign and an astroturf (fake grassroots) phone bank - Citizens for Responsible Health Care - to defeat this referendum. The Maine Peoples Alliance, the Labor Party and other supporters of this effort obviously don't have these kind of resources, but they\you\we still need to counter this crap and inform Portland residents of the truth.

(Imagine: if the opponents of the UHC bill are willing to spend a half million now just to spike a non-binding referendum in a town of 60,000, how much corporate bread is going to be flying around the state next year when the UHC plam comes up in the legislature for a final vote. Help stop their cynical lies and fear-mongering distortions now.)

PLEASE VOLUNTEER!

Purpose: To make calls to remind likely supporters to vote on Nov. 6 in support of the Portland universal health care referendum.

When: Saturday Nov. 3, 3-6 PM

Where: Office of Fontaine and Beal , 482 Congress St. Third Floor.
(Between Monument Square and L.L. Bean on Congress.)

To sign up Please e-mail trabwright@earthlink.net

Together, We will win!