The Nancho Restoration: Stage I
"Just like the LDP!"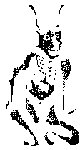 THE
NANCHO IJIN BUTAI
IS LEGAL!
NANCHO GETS RESPECTABLE!
After 5 futile years campaigning for non-profit status for Japanese NGOs,
we stumbled on the Great Secret: Form a Political Party!
Anyone with 2 friends and 15 minutes can do it
-- even an Alien! (They just never thought to forbid it...)
The Official Aims & Purposes of the Nancho Ijin Butai
(As registered with the Kyoto Prefectural Election Commission, April 1. 1995)
1) to protect Japan's natural environment, human rights and cultural heritage by direct democratic empowerment of Japanese citizens:

(basic necessary reforms: freedom of information; community access to media; jury system; initiatives & referenda; and local control [of schools, police, airwaves, etc.]);

2) to use various new media technologies to heighten local and foreign awareness that the impotence of Japanese democracy has become an international problem with grave implications for the environment, human rights and economic well-being around the world;

3) to increase international support for and cooperation with local citizen groups working to reform & democratize Japanese society;

4) to educate the general public about the political, cultural and evolutionary importance of maturation and individuation; and the consequent social dangers of psychosomatic neoteny: (explaining: a) how the estrogenic effects of examination hell, social stress and imported soyfoods can systematically suppress Japanese male hormones, making corporate workers more docile, child-like and obedient; and b) why many salarimen are therefore less able to stand up for their rights, principles or families, and less interested in the adult responsibilities of democratic participation);

5) to quicken environmental compassion and the awakening of a Gaian immune system, using international media and Japanese danketsu, aiki and shudan ishiki techniques to create the Earth Hour Conspiracy, a monthly simultaneous hour of shared global consciousness and Gaian awareness.
***** End of the New Beginning *****
---
Supported By People Like You (which is to say as yet, By Vanishing Little At All)
- Quickly Correct This Disgraceful Situation, or At Least Endure The Spiel.

LINK US UP !
Help Ignite Saltation -- Lay Fuse to Others of your Elusive Illustrious Ilk

Shareright (S) 1998 : Nancho Ijin Butai